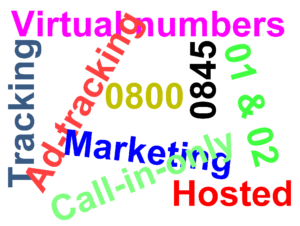 Do you track your marketing and adverts?
Do you wish you could track how your marketing and advertising is working for you? Have you spent £1000's on your website and want to know if people are calling from viewing this? Do you have expensive adverts running on the radio, in magazines or on social media?
If you answered "Yes!" to any of these questions, then using a tracking phone number can help you keep track of how your adverts are working for you.
But I hear you say, "This will cost loads". But no, it won't, they are supplied by the month as a single phone number and discounts on multiple numbers. We even offer them contract-free, so can be cancelled at any time.
"How does it work?". A phone number for the area code you require is supplied, and at its simplest is set to ring the phone of your choice.
You could use a single phone number or as some of our clients use, 10+ tracking numbers and use these to track adverts in different magazines and areas. Each call is logged and can be recorded, so you know who called, when and for how long.
Why not call us on 01392 241666 and ask me to prove that using a tracking number will work for your business. In fact, I am so confident they will work, we offer a 100% guarantee that after a month of using one of our tracking numbers you will know how often your advert is called and will know how your advertising is working for you.
Please come back soon and check out our website at www.numberite.co.uk